For Sale - Detached house 140 m² in Kassandra, Chalkidiki
---
---
Type:
Detached house
---
Category:
For Sale
---
Sq. Meters:
140 m2
---
Land size:
500 m2
---
Number of floors:
2
---
Year of construction:
2012
---
Distance from sea:
---
Dist. to near. town:
---
Distance from airport:
---
Beach:
pebbly and sandy
---
Number of rooms:
5
living room with a kitchen, 4 bedrooms, 2 bathrooms
---
Sea View:
beachfront
---
Other amenities:
Electric heating, air conditioning in the living room, a lawn with automatic watering, barbecue
---
Parking
Sea View
Swimming Pool
Lift
Fireplace
Wifi
SUPER OFFER !!! We offer you a housein a gated and well-landscaped gated complex on the Kassandra peninsula of Chalkidiki resort. Houses consist of two floors and they are located on the first and second and third line from the sea with a large plot around the house of 700, 1000, or 1,300 sq.m. The houses have two floors with a living area of 150 sq.m, two large porches, huge pantry. A long strip of beach, clear sea, the unique nature, seascape, small towns on the coast where you can find everything you need - all of this will fill your stay pleasant moments.
The price of the house includes kitchen and electrical appliances. Possibility to build the pool for a fee.

House of 140 sq.m cost 250.000 euro ( 3rd line )
Houses of 150 sq.m, located on the 2nd line of the beach cost 500.000 to 550.000 euro depending on the size of the adjacent plot of land. There are 2 houses on the 1st line of the beach available for sale, with prices at 850.000 and 1.000.000 euro, also depending on the size of the adjacent plot of land.

Title transition tax - 3%

Maria Athanasiadou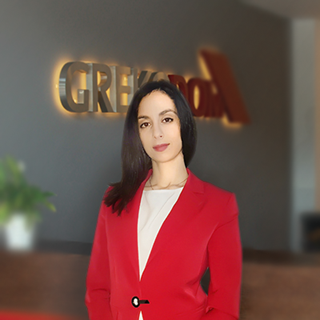 +30 2310 591 431
sales@grekodom.com