Sale - Flat 106 m² in Cyprus
---
---
Type:
Flat
---
Category:
Sale
---
Sq. Meters:
106 m2
---
Distance from sea:
---
Distance from airport:
---
Parking
Sea View
Swimming Pool
Lift
Fireplace
Wifi
It consists of 10 high quality, super luxury, and spacious flats.
On the ground floor there are parking spaces for every flat with three entrances for easy access and store rooms.
Also there is a communal indoor heated swimming pool and jacuzzi with change rooms, toilets and a nice deck where residents can sit, relax and enjoy their free time.
A high quality lift with glass to provide view to the swimming pool on the way up and down.
DESCRIPTION OF BUILDING EXTERIOR & INTERIOR
FLOORING: Living-room, bathrooms, verrandahs, high quality first choice porcelanato tiles.
BEDROOMS: Laminated parquet.
KITCHENS: Modern Italian imported.
INTERNAL DOORS: Modern Italian imported.
EXTERNAL DOORS: Solid Italian design
WINDOWS: Silver aluminum windows with thermo insulation performance, double glazed glass to provide extra thermo insulation.
GYPSUM DÉCOR & LIGHTINGS: Living-rooms and kitchens will be decorated with gypsum boards with build-in lightings. Bedroom lights or chandeliers are not included.
HEATING: All floors will be laid with pipes for floor heating. The pipes will lead up to the roof where they will be connected to the heat pump. Heat pump is optional and not included in the price.
A/C: Toshiba brand air Conditioning will be provided only in the enclosed with gypsum boards areas such as living-room. In bedrooms is optional and not included. Also piping goes to the roof to be connected with VRV system. VRV system is optional and not included.
VERRANDAH RAILINGS: All glass at 1.10m height to provide full views, supported by aluminum at the bottom.
WATER: A solar panel to provide hot water & reservoir tank for each flat. Also there will be provision for water softener.
TAPS & SANITARY: High quality of imported taps, accessories and sanitary fittings, hanging type toilets and build- in washing basins with mirror.
PRESSURIZED SYSTEM: Will be installed to provide extra pressure of water in each flat.
PAINTINGS: Internally will be spatula & 2 coats of paint. Externally will be hard mini grafiato guaranteed for external surfaces.
CURTAINS, FURNISHINGS & ELECTRICAL APPL: Are not included.
THERMAL INSULATION: 5cm polystyrene covering the whole building including concrete surfaces to provide the maximum of thermal insulation according to the rules and regulations of the Cyprus building laws.
WATER INSULATION: All covered and uncovered verandahs roofs and building perimeter at the bottom will be insulated with 5mm polyester asphalt sheets.
PARKING: One parking is provided for each flat as well as for disabled and two for guests schintler
LIFT: High quality Swiss technology(Shintler brand) with glass on the rear side to provide full view of the indoor s/pool on the way up or down.
The construction of the building has started and we expect to deliver on May 2018.
Maria Athanasiadou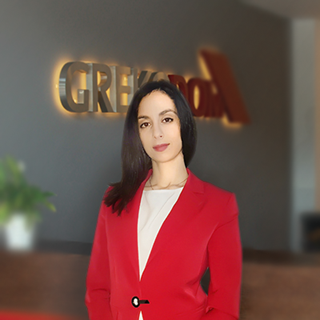 +30 2310 591 431
sales@grekodom.com
Yuriy Hereha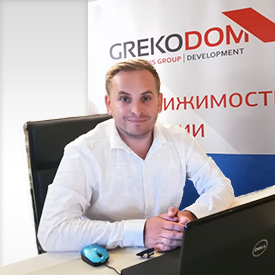 +30 28410 23 555
yhereha@grekodom.gr